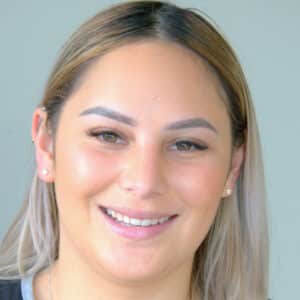 You could find Teana anywhere around the building. She is a receptionist, she assists the dentists, processes our xrays and CT scans, and even helps with the cleaning and tidying and doing the dishes
Teana is a born and bred Aucklander who completed her schooling at Avondale College. She went to Uni to study podiatry [feet] but decided the other end of the body looked and smelt better. So she became a dental assistant, first in Hobsonville, then with the best dental team in all of the Newmarket – Epsom area.
Teana has a couple of dogs [translated: she likes walking] and she plays touch rugby and netball and has family scattered around in Kawerau, Papamoa, and Whangarei. Thats a long way to go walking the dogs!